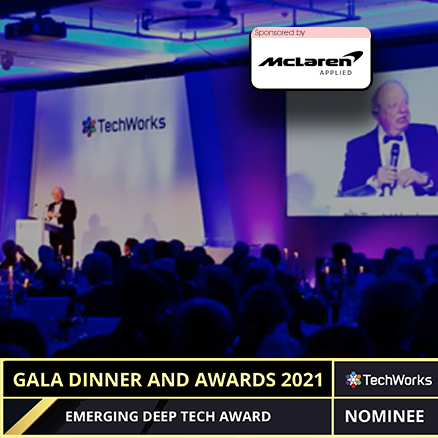 Megatech has been shortlisted to win the Emerging Deep Tech Award in this year's Techworks Awards hosted at the Leonardo Hotel, London.
The company has had an exciting year so far and on the 9th of December we'll find out if we've won this prestigious award recognized by all our peers. "This award honors a growing company showing excellent progress – demonstrating impressive growth in areas such as revenue, headcount, innovation, investment and/or market traction as success indicators".
Strict criteria for the submitted application meant that a three-page document outlined Megatech's progress during the pandemic addressing all the various points stipulated by the award guidelines. Including, the hard work of employees to apply expert knowledge during sales and logistics to ensure that our customers were supplied their materials on time even with International and local lockdowns in place, given the reliance of the equipment for the COVID-19 relief.
The judges of this category – Daniel Dearing, Senior Innovation Specialist at St John's Innovation Centre Ltd, and Bryn Balcombe, Chief Strategy Officer at Roborace will have had some excellent applications to read and we'd just like to thank them for giving us the shortlisting.
If we win the award, this will be testimony to the organisation's upwards direction within the Semiconductor supply industry.