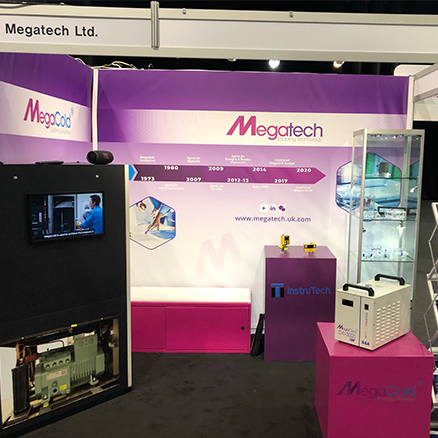 Last month we exhibited at SPIE Photonex and Vacuum Technologies, where we occupied the largest square meter floor space in the company's history. Held at a different venue from previous years, the city of Glasgow would capture new visitors over the two days and help expose the continual operational efforts taking place in the UK's vacuum technology sector.
As part of our overall marketing strategy, consistent brand representation across all channels of marketing was essential and a key focus area when designing this year's stand. Uniforming the three brands within the group is now evident and is hopefully a familiar sight for all to see on our websites, company brochures, and now in our stand design.
Products were proudly displayed in glass cabinets and on floor plinths, including the recently unveiled, Brooks Instrument GP200 MFC. If you came to the show, you might have noticed another new feature of ours, the life-size Megacold cryopump exhibit which had a fully functioning touch screen monitor.
Throughout next year we will be exhibiting in America, Europe, and once again in the UK at all the largest shows such as SEMICON Europa, SVC Techcon, and SPIE. If you would like to meet with the sales team during any one of these shows, please do email us to request a meeting.