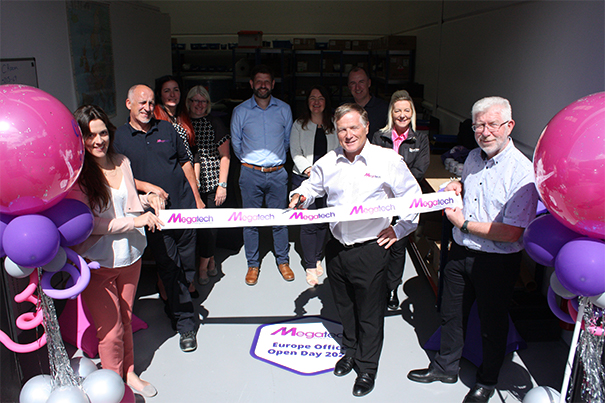 Megatech Limited has been servicing customers in Europe for many years, and 6 years ago established Megatech Europe Ltd. operating out of a shared facility in Dublin. In the Summer of 2022 the company purchased and relocated to a new site in Baldonnell Business Units which allows an expansion of the services offered to the Semiconductor industry and its customers.
The new site's open day saw colleagues and invited customers gather to celebrate this milestone. Established in 1973, this is the latest stride along the group's road map as they approach their 50th Anniversary in 2023.
When asked what the new premises means for Megatech Europe, Quentin Jones, Managing Director of QATCO Limited (Parent company) comments,
"Megatech has been operating in Europe for the past fifty years, and out of Dublin for the past six. The opening of the new facility here in Baldonnell enables us to design and develop new products for our customers."
"We've built an ISO class seven cleanroom facility so we have the capacity for building PFA fluid polymer assemblies such as valve manifold boxes, we can also do repair work to existing valves and components that are used within the Semiconductor industry".
Continuing to service this industry efficiently has been instrumental to the growth of Megatech Europe Ltd. Unit C3 will help facilitate the group's expansion into custom-built polymer assemblies alongside the existing PFA tube cutting and spooling production.
The newly built cleanroom will house the production of the new product line, Megatech Systems, for the UK and European markets initially, which will be launched at SEMICON Europa in November.
Megatech Europe Limited
Unit C3
Baldonnell Business Units,
Clonlara Avenue,
Baldonnell Business Park,
Dublin 22, D22 FD70