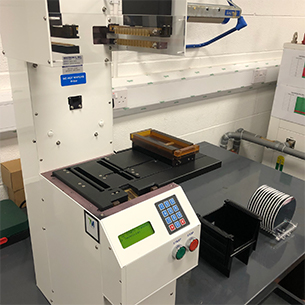 Product knowledge and diagnostic capabilities are some of the foundation blocks that Megatech is built on. At times, we are presented with a customer's dilemma to solve, and it is up to our in-house product specialists to work through errors and return the product without delay. When a piece of equipment goes down within the fabrication production line this can cost the company tens of thousands of pounds, so it is up to us to deliver a fast diagnosis.
We recently had a Mactronix MSS Solid Source wafer transfer tool sent to us from a customer to investigate a reoccurring error they found. During one part of its operation, this tool is used to lift a quartz boat with solid source disks upwards to slot in between and collect wafers held ready for transfer. Unfortunately for the customer, only when the quartz boat was empty would the machine operate correctly. Not ideal.
The solution to this problem involved an update to the firmware controlling the operation of the tool. This required a new sister board with the updated firmware to be imported from Mactronix in the USA and fitted to the motherboard in place of the existing sister board. The upgrade process also required adjustments to the program flow in the lifting mechanism.
A secondary fault was found whilst implementing these updates where the pusher control had been deactivated. This needed to be reactivated and then recalibrated so that the pusher would correctly hold the plastic cassette in place for each stage of the transfer process. This is an essential function to ensure that the wafers are collected and held in the correct positions in the retainers ready for the quartz boat to collect them, preventing any collisions during the process.
It only took a week for Megatech's staff to diagnose the problem, ship parts from America, install and re-adjust settings, and then send them back to our customer. That is a job well done!